Programmable Web
Neerav Mehta
Founder & CEO
Programmable Web is the largest API-centric site in the world, offering details and news about the APIs and mashups. It also allows developers to mark APIs and mashups as favorites and follow them.
Publishing Workflow
In order to make the publishing workflow frictionless for the editors, we customized it for their convenience. Depending on the user's role, he will see only the fields that he is interested in seeing in order to publish, approve or reject a draft. We created custom reports showing the number of articles published and in draft on per week basis so that the chief editor can keep tab on the publishing pipeline.
SEO
Various SEO related modules have been used to ensure that the site is properly optimized. We also integrated the site with Google PubSubHubBub to ensure that Google News indexes a news story as soon as it is published. These efforts have led to almost doubling of page views in a year.
Performance
In addition to implementing standard performance optimization techniques such as using advanced css/js aggregate module, APC, memcache and varnish, we went a step further. We integrated the site with AWS Route 53 service and as a result, DNS lookup time decreased substantially. We also cached dynamic pages with AWS Cloudfront so that they can be served globally with minimum network latency. We also experimented with inlining critical CSS. The current site loads within a second for US visitors and within 2 seconds globally.
Personalization
We created a custom module to integrate with Adzerk Ad server. Dynamic ads can be shown anywhere on the page depending on the page category, language and user demographics. Engagement with the ads has increased. Site was also integrated with Klaviyo email software so that better personalized emails can be sent. These initiatives have layed a major role in inching the Programmable Web site towards profitability.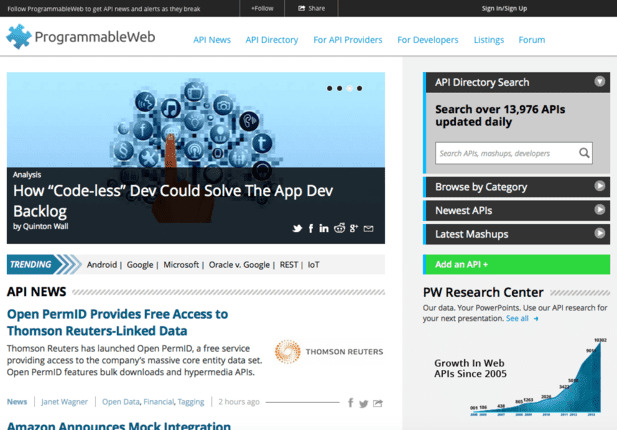 Background & Goals
Programmable Web is the largest API-centric site in the world, offering details and news about the APIs and mashups. Programmable Web was feeling confined by what its custom build software could offer. They needed a flexible solution that could offer limitless possibilities of what could be built without reducing speed of development. Since it's a high-traffic global site, page load performance across the world as well as reliability were critical.
Solution
We offered them a Drupal based solution that could take care of the workflows and functionalities they wanted to build. In addition to implementing standard optimization techniques such as APC, memcache and Varnish, we already integrated with Amazon's Route 53 for DNS caching and Cloudfront for caching even dynamic pages. We also implemented Google PubSubHubBub so that the news articles published on the site are instantaneously indexed by Google News.
Results
The results have been overwhelmingly positive. Page views have increased by 90%. Registrations have almost doubled as well. Site appears prominently in Google News results. Average page load times in the US is less than a second and globally, less than 2 seconds.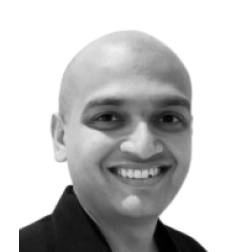 Neerav Mehta
Founder & CEO
Neerav Mehta is the Founder & CEO of Red Crackle. With sterling qualities, Neerav's technological acumen is firing a generation of progressive companies on the digital path. With an undergraduate degree in Electrical Engineering from India's most prestigious institution IIT Bombay and having spent seven years developing and contributing to the launch of AMD's innovative line of computer products, Neerav founded Red Crackle where he is lauded for his dynamic and innovative genius.